Become a Kerry Ambassador
Engage with international counterparts, enhance your profile and contribute to rebuilding the Kerry visitor economy through a collaborative, progressive and positive initiative.
Could you be a Kerry Ambassador?
Ambassadors are experts in their field and the key trait that all our ambassadors have in common is a positive emotional bond to Kerry or the aspirations of the County.
Hailing from all corners of the Kingdom and the globe, our Ambassadors represent sectors as wide and varied as community, enterprise, academia, agriculture, business, engineering, medicine, science, sport, arts, culture, heritage and technology.
Qualifying Characteristics
Are you an active member of an Association, Federation, Society, Business Network or Sporting Organisation?
Do you attend national or international events which could be held in Kerry?
Could you influence which host country or Irish destination is chosen for future events?
Does your organisation hold incentive (sales reward) programmes, executive retreats, board meetings, team building, planning days or product launches?
Are you interested in bringing a national or international conference or event home to Kerry?
If the answer to any of the above questions is YES, we would be interested to talk with you about becoming a Kerry Ambassador.
You are influential so please use your influence!
We seek to recruit ambassadors who are specialists in the following key sectors for Kerry: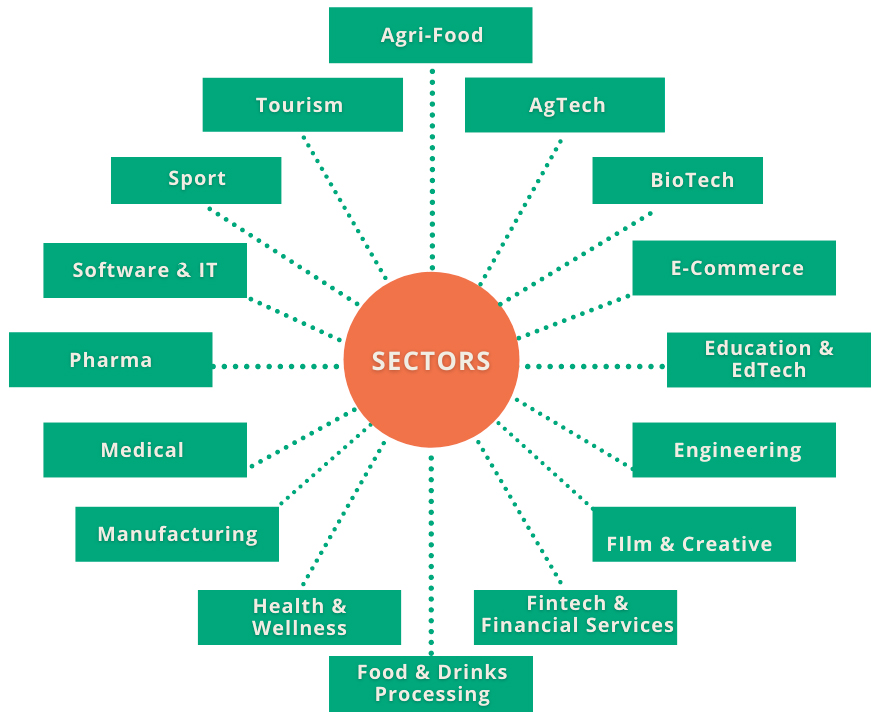 If you think you have the potential to host a business event in Kerry or can motivate someone who can, we are here to help.
Contact us today to find out more about how we can provide support for you to shine on an international stage, highlight your discipline, enhance your reputation, promote your work and earn recognition from your peers by bringing a business event home.
What is the Kerry Ambassador Programme?
Established in 2022, the Kerry Ambassador Programme is a new county initiative, designed to drive economic growth through business events and investment opportunities, raising Kerry's profile as a global business hub.
The programme is led by Kerry Convention Bureau, in partnership with Kerry County Council, Fáilte Ireland, Kerry Tourism Industry Federation, Kerry SciTech and Prosper Kerry.
The programme was formally launched in October 2022 with an invited group of highly regarded community and industry leaders, living and working in Kerry, Ireland or abroad joining as founding Kerry Ambassadors.
The initiative provides a platform for our founding Ambassadors and programme partners to work together in pursuit of a common goal – to advocate for Kerry and to contribute to Kerry's ongoing economic growth and recovery, by placing Kerry on the national and international stage as a premier business events destination AND a place to do business.
This invaluable style of advocacy showcases the county as an industry leader in enterprise, innovation, and research, and serves to shine a light on Kerry's enterprise sector, communicating the vibrancy of the county's business ecosystem and academia.
By encouraging individuals and companies to consider Kerry as a place to do business, progress a career and a location of choice for investment, both private and public, our Ambassadors play an important role in promoting economic, social and community outcomes for Kerry.
How does it work?
At Kerry Convention Bureau, we understand that the prospect of inviting your national or international association, society or organisation to consider Kerry for a future business event may be a daunting task. Similarly, we know that if you are referring on business colleagues with potential business events opportunities to the Kerry Convention Bureau team, they need to be afforded the highest level of assistance and support available.
We are here to assist you every step of the way, providing guidance. intel and information along with one-on-one practical supports to identify, develop, and nurture business event opportunities.
We help our valued Kerry Ambassadors by:
Researching the viability of hosting a meeting in Kerry
Responding to event briefs with relevant meeting space, accommodation and activity suggestions and facilitating proposals/introductions as required
Providing expert support and advice on bidding for and winning conferences
Connecting to Fáilte Ireland Business Events financial supports
Hosting site inspections with member properties and venues
Assisting with event delivery through a variety of complimentary services

Bid preparation and presentation
Researching the viability of hosting a meeting in Kerry
Providing expert support and advice on bidding for and winning conferences
Introduction to Professional Conference Organisers (PCOs) who can manage the bid process for you
Financial funding to assist with the preparation and the travel involved with bidding for an international conference
Letters of invitation/endorsement to support the bid document
Sample bid documents
Image libraries & award winning videos
Sample presentations
Site inspection hosting
Fund and co-ordinate site visits for your key decision makers. Site visits cover meeting facilities, accommodation, social programme options.
Event support fund
Financial contribution towards your event which can be used for marketing to encourage a strong delegate turnout
Marketing at preceding conferences
* Please note, thresholds apply for financial support
From the initial bid to the event itself, Kerry Convention Bureau and Fáilte Ireland will work hard to support Kerry Ambassadors to deliver successful events and provide unique experiences for attendees.
Why become a Kerry Ambassador?
There are many notable benefits associated with becoming a Kerry Ambassador
Raising the profile of your work amongst your peers, nationally and internationally
Being recognised as a leader in your field of expertise
Establishing a platform for research projects and international collaboration
Contributing to an organisation's strategic aims
Generating economic benefits and profile for Kerry
Increase exposure of Kerry and Ireland as an area of academic/scientific excellence
Play a vital role in securing business that delivers direct economic benefit to the region
Create awareness of Kerry as a world class tourism destination
Underpin and stimulate improved access via Kerry Airport, creating positive momentum for future growth
Enjoy free and practical support from Kerry Convention Bureau and Fáilte Ireland every step of the way
If you can attract business events, big or small, or can encourage key influencers in your network to do so, please get in touch to discuss how you can join the Kerry Ambassador Programme.